Are you a coffee nut? Does the smell, the taste, just about everything about coffee drive you up the wall? Well these great coffee ideas are for you then.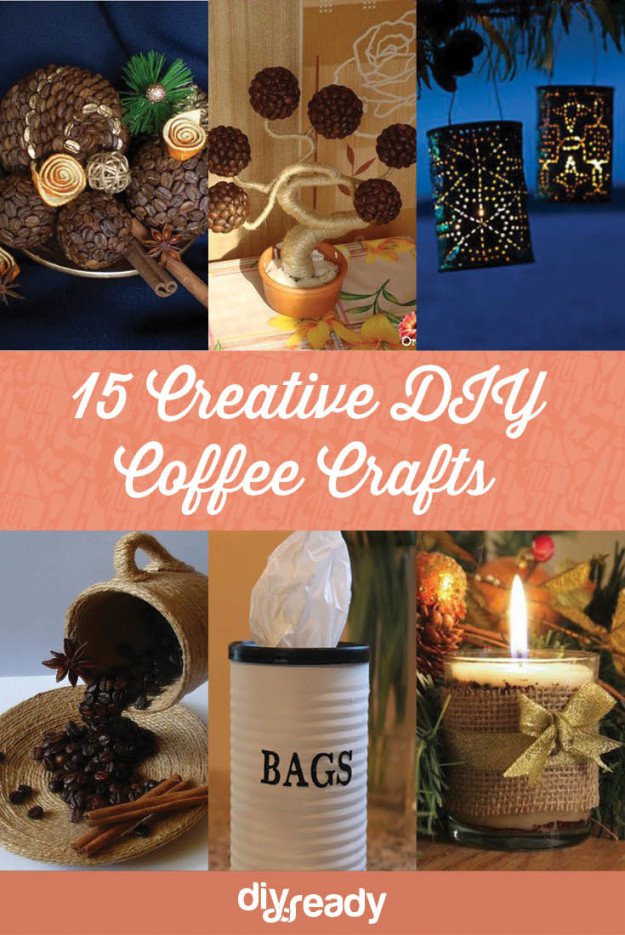 15 Creative DIY Coffee Crafts
Mornings may be rough for some of us until you've had your cup of coffee. Well, it shouldn't be the only way to beat the morning blues. Who knew you could use up any extra beans, grinds or accessories to start brewing up creative DIY coffee crafts. Check out our favorite 15 creative DIY coffee crafts and brew up some fun.
DIY Crafts For Adults Who Love To Drink Coffee
1. Coffee Can Lanterns
These are awesome! Simply upcycle tin coffee cans into lanterns for festive outdoor fun! See how you can make it here.
This is a totally gorgeous wreath. I am surprised at what you can create with coffee filters! Check it out here.
3. Homemade Coffee Scrub
This homemade coffee scrub can help nourish skin and lessen the appearance of stretch marks and cellulite. Get the instructions here.
4. Coffee Candles
Instead of wasting all of that wonderful wax, combine it with some fragrant coffee grounds to create dazzling, coffee-scented candles at home. Make it with this tutorial.
5. Flying Coffee Cups
I just love this DIY home decor craft idea – it has an intriguing optical illusion. Check it out here.
6. DIY 3D Coffee Cup Wall Decor
You'll be surprised how fancy and fragrant this coffee bean wall decor is! See how you can make it here.
7. DIY Coffee Tealight
I love being able to freshen indoor air naturally. Check it out here.
8. Coffee Bean Coaster
Your new coaster may even double as an air freshener when you use it with hot drinks. See how you can make it here.
9. DIY Coffee Heart
I so love the idea. This is a fun DIY project to make a heart shaped coffee bean decor. Tutorial here.
10. DIY Pallet Coffee Cup Holder
This is an awesome idea and I love the simple, elegant stencil. Check it out here.
11. DIY Coffee Tree
This is such a great gift idea! See how you can make it here.
12. DIY Coffee Bean Ornament
Not only do this smell great but it makes a decoration as well. Get the instructions here.
13. Homemade Candles
This coffee bean candle will surely fill your home with the sweet aroma of freshly roasted coffee beans. Make it with this tutorial.
14. Plastic Bag Dispenser
Way classier than shoving those plastic bags in a drawer or at the back of the shelves. Instructions here.
15. Coffee Beans Table Centerpieces
Coffee bean centerpiece ideas are simple and cute. See how you can make it here.
Need more DIY coffee crafts? Let's check this video and learn how to make a Leather Coffee Cup Sleeve from Inspire To Make:
What DIY coffee crafts have you made? Let us know below in the comments!
Stay connected with us on Facebook, Twitter, Pinterest and Instagram!

LIKE this? I'm sure you'll LOVE:
The post 15 Creative DIY Coffee Crafts appeared first on DIY Ready.
For more info and instructions about this great tutorial you can find in the source url - above the photo. NewCraftWorks.com is a collection of the best and most creative do it yourself and Craft projects, tips and tutorials. We don,t claim ownership to any of these photos/videos. Credits goes to the original author of this great work. For more info please read our Disclaimer page.